Leave a comment
October 9, 2020 by Bret Kramer (aka WinstonP)
Cryptober may began on land, but like a side-scrolling video game or certain descendants of Obed Marsh, we are bound to end up in the water.
As Mainers say, their state has more coastline than the rest of the continental US combined* – which actually isn't true, but the people of Maine are a cunning and guileful people and by the time they have tricked you to visiting one of their many mostly rocky beaches, you've already bought a lobster roll and a t-shirt saying "Property of Old Orchard Beach". By my calculations, the average ocean water temperature of coastal Maine is slightly above 0 Kelvin and anyone who claims to have taken an ocean swim is either a lunatic or some sort of human/seal hybrid and is trying to steal your skin or something. (*They actually claim more coastline than California.)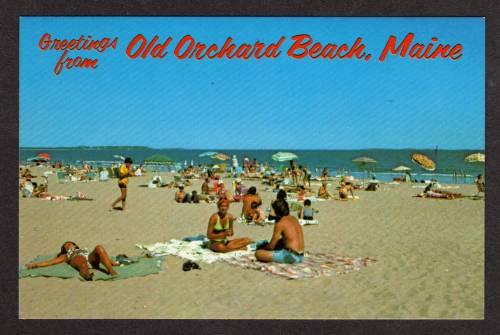 You are probably wondering what the hell you just read and what kind of grievance I must have with the fine people of Maine. Let us just say that I was trying to get into the spirit of the source for today's cryptid – the English writer (and man who never let a fact stand in his way) John Josselyn and his 1674 book (deep breath)
An account of two voyages to New-England : wherein you have the setting out of a ship, with the charges; the prices of all necessaries for furnishing a planter and his family at his first coming; a description of the countrey, natives and creatures, with their merchantil and physical use : the government of the countrey as it is now possessed by the English, &c. : A large chronological table of the most remarkable passages, from the first discovering of the continent of America, to the year 1673

https://archive.org/details/accounttwovoyag00Joss
Josselyn relates the following encounter by one Mr. Mittin (in a catalog of other strange oceanic sightings) on Casco Bay in what is now Maine:
For the sake of our readers I'll render that again without the ∫ (long s) and whatnot:
One Mr. Mittin related of a Triton or Merman which 
he saw in Casco Bay, the Gentleman was a great Fouler, 
and used to go out with a small Boat or Canoe, and 
fetching a compass about a small island, (there being 
many small islands in the Bay) for the advantage of a 
shot, was encountered with a Triton, who laying 
his hands upon the side of the Canoe, had one of them 
chopped off with a Hatchet by Mr. Mittin, which was in all 
respects like the hand of a man, the Triton presently funk, 
dying the water with his purple blood, and was no more 
seen.
When did it happen? Near which island? Who knows. That is all we get about the creature as Josselyn wants to talk more about a boat full of witches and other typical New England sights.
We have a few other tales of merpeople (other than H.P. Lovecraft's ode to going to the shore and visiting family "The Shadow Over Innsmouth"). A Rev. Valentyn reported the crew of a ship he was on spotted a merman on the shore of Nantucket in 1714. Almost 200 years later, a Connecticut lighthouse keeper claimed to have seen a mermaid near the Stratford Point Light. And of course, more than one person has displayed a dried mermaid body in Boston (and we talked about the best known of these, Barnum's Feejee Mermaid, in issue #2 of the Arkham Gazette).
If you want to see a merman or triton in New England, all you have to do is look for one of several dozen gravestones carved by the so-called J.N. carver, which can be located in Boston's oldest cemeteries, such as the Granary Burying Ground. His tritons, ominously called "Dagon Stones" by one gravestone historian, are lovely and a remarkable example of early New England craftsmanship.